09-11-2017, 10:19 AM (This post was last modified: 11-10-2018, 02:06 AM by DarkDangem.)
Warning: This picture is made by me for use within areas I specify myself. I do not allow reproduction or sharing of this photo without attribution to the rightful owner. This photo, under any circumstances, can not be used commercially or unless otherwise stated by me.
Here's something hot for the cold winter breeze. I started up by using a Shoukaku fan art as my main reference, but I thought I wouldn't really make anything out of it so I gsve it a little bit of a twist. I started up by using Hana Song's (also known as D.Va) color scheme for the garments, and then Zero from Drakengard 3 came to my mind. I'm not so surprised if no one knows what I'm talking about but anyways, I ended up using her scheme for the hair, eyes, and some touch-ups.
Hope you enjoy!
Illustris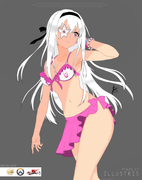 The following 1 user says Thank You to

Illustris

for this post:
1 user says Thank You to

Illustris

for this post
•

DarkDangem
Wow this is pretty cool bro, youre really good at it. I wonder if I can make something pretty like that. :)

That is a very nice talent sir, keep up the good job! make more and share it to us! :D
Users browsing this thread: 1 Guest(s)