11-06-2017, 09:49 AM (This post was last modified: 04-16-2019, 08:09 AM by DarkDangem.)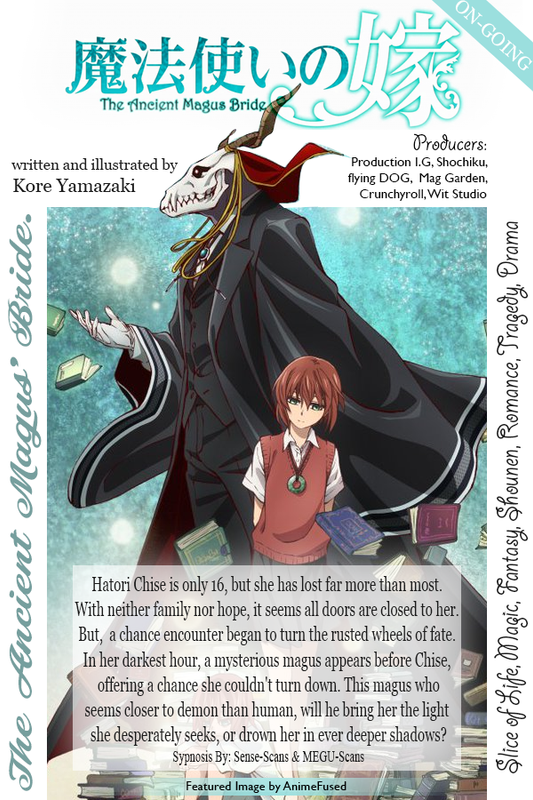 The Ancient Magus' Bride Review
The Ancient Magus' Bride is a very nice anime, worth waiting for this season to come!
I even watched its preview on youtube and it looked promising. Then I was really excited for this anime when it finally aired,
It's a touching fairytale with its own unique characters and magical theories. The Ancient Magus' Bride is full of magic, romance, drama and funny scenes.
If you're a fan of "Natsume's book of friends" and "KyouKai No Kanata" then you'll surely love this anime. Every ending scene is just so powerful. Beautiful imagery, wonderful animation, and simple yet stirring music. Sometimes my teary eyes are welling up, luckily I could stop them. LOL. Love this series and its melancholy music. Definitely worth watching!
Sypnosis
"Hatori Chise is only 16, but she has lost far more than most.
With neither family nor hope, it seems all doors are closed to her.
But,  a chance encounter began to turn the rusted wheels of fate.
In her darkest hour, a mysterious magus appears before Chise,
offering a chance she couldn't turn down. This magus who
seems closer to demon than human, will he bring her the light
she desperately seeks, or drown her in ever deeper shadows?"
Sypnosis By: Sense-Scans & MEGU-Scans

Producers:
Production I.G, Shochiku, flying DOG,  Mag Garden, Crunchyroll, Wit Studio
You Might also want to read this:
I'm a fan of this anime is very relaxing and it already made me cry twice. LOL

Users browsing this thread: 1 Guest(s)