08-31-2016, 06:53 AM (This post was last modified: 07-14-2018, 01:59 AM by DarkDangem.)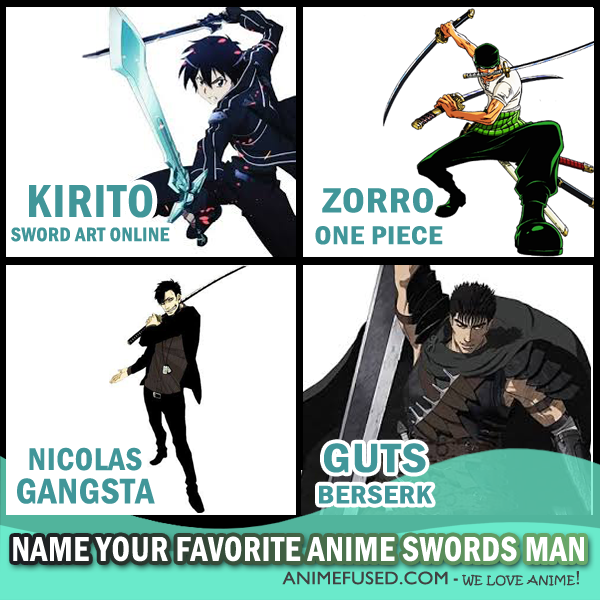 Who is your favorite anime Swords man?
As for me, the pictures above are my most favorite of all, they all both have unique skills and character that will make you really like them.
My first one is Kirito of SAO.
He doesnt give up easily and the story of the anime is quite cool because they were in the MMORPG virtual world but the game creator made it a death game, unable to logout and if you die in the game you will also die in the real world. Therefore Kirito here fight and train hard and learned unique skills and get rare items. This anime is also one of the best RPG anime genre. The first RPG anime that really became famous and popular.
My Second Choise is Zorro from One Piece.
I think everyone likes zorro's manly attiude and his chivalry, aside from his weakness in directions he is strong and very cool!
My third choice is Nicolas from Gangsta.
He cannot speak normally thats why he uses sign language in a cool way most of the time. His fighting style really gives me a goosebump he is very strong but still it saddened me when I discover that he is relying in a specific drugs that make them stronger and at the same time it cures them. Still his attitude here really suits him as a Gangsta! Cool!
And Lastly, Guts of Berserk.
I dont like the people in this anime they always judge Guts and try to kill Guts. But Guts didnt mind them instead he keeps on fighting demons and fight for what he believes. Also his sword here is the real deal a big broad sword, its really amazing weilding that kind of sword you must be really strong and powerful to be able to cut and slice the enemies.
Who's Yours? Im pretty sure there are more cool anime swords man.